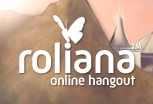 Mode de Roliana was a user run magazine, a twist on the Roli Times but concentrating mainly on fashion, items and the wonderful avatar creators.
LilEmz was the creator of this thread, but she was helped by many contributors- from the people participating in interviews, to generous users devoting their time to come up with ideas or even draw up pieces to use in the magazine.
It began in June of 2009 and unfortunately has been ended until further notice- since August 2010.
LilEmz intends to one day continue sporadically with Mode de Roliana, but until then other users have begun their own versions of the Roliana fashion magazine. Check out Gummibear, and also Clock.s magazines.